Quality Assurance Policy
Quality Assurance Policy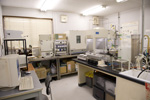 We build and maintain the very sure quality assurance management based on GMP of food additives, and also we make a continuous improvement on it in order to provide our customers with highly qualified production.
We carry out all our corporate activities through the compliance not only with laws, but also with social ethic.
We continuously act to improve our trustworthiness from our customers, by our appropriate communication with our customers and by our voluntary information disclosure to our customers.